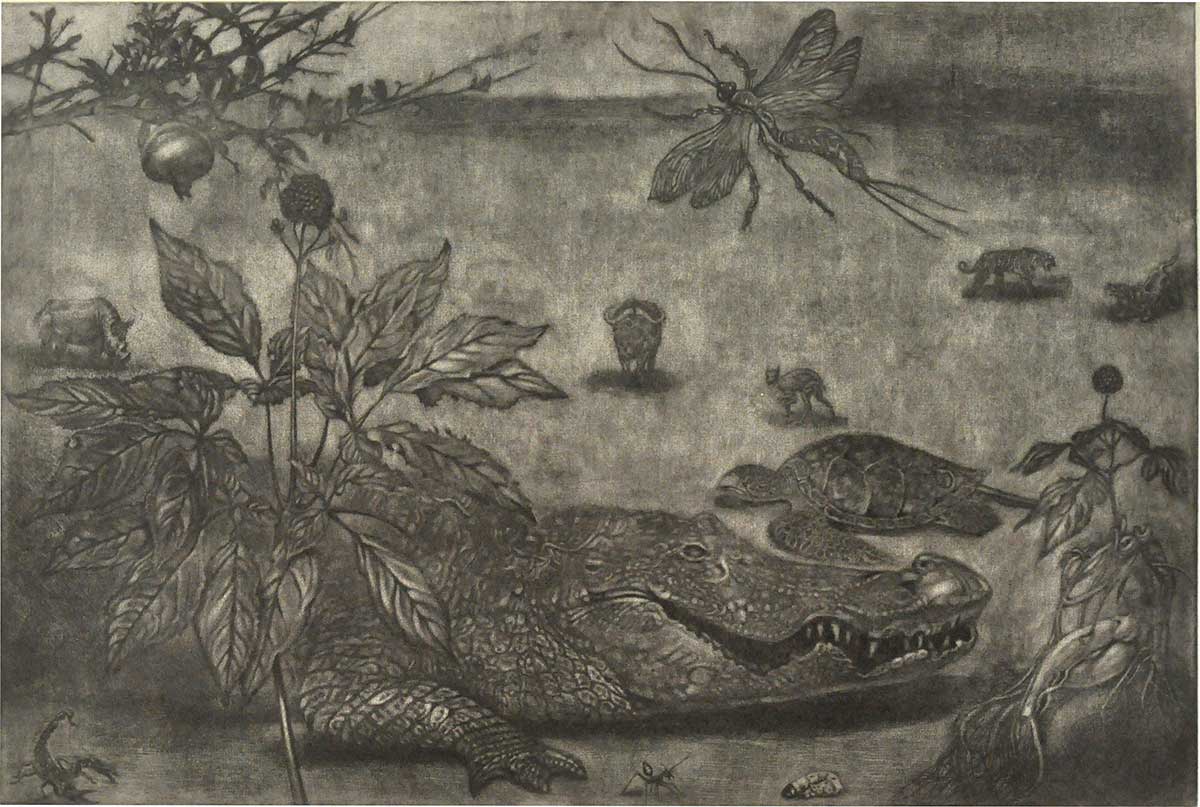 BIO
Curtis Bartone's work has been included in over 100 group exhibitions internationally, and in 22 solo exhibitions, most recently at the University of Alabama, Huntsville; Wentworth Institute of Technology in Boston; and Alberta Printmakers in Canada. Bartone has been awarded residencies all over the world and has received several grants. His work is included in numerous public and private collections. Bartone received an MFA from Northwestern University and a BFA from the Columbus College of Art and Design. Currently, he resides in Savannah, Georgia with his wife and seven cats, where he makes prints and teaches printmaking at the Savannah College of Art and Design.
ARTIST STATEMENT
My work over the years has addressed our complex relationship to the natural world. Much of my recent print-media work specifically addresses what we have lost and what we still stand to lose—plants, animals, and wild spaces. Esteemed Harvard entomologist E. O. Wilson estimates that half of earth's higher life forms will be extinct by 2100. While at times my work serves as a warning, at other times it becomes an elegy, mourning the loss of something irreplaceable.
Aphrodisiac, a large-scale etching, mourns the senseless killing of animals in the name of traditional medicine. The "Plague Poem" etchings, produced during a residency in Boston at Emmanuel College, use the Plagues of Egypt as a point of departure. The ten pieces comment on contemporary environmental issues and crises, where modern "plagues" are often being perpetuated by a lack of compassion for the non-human living things that inhabit Earth. The "blood," in Water to Blood, takes the form of algae blooms, oil spills, sewage dumping, agricultural run-off and lead-contaminated drinking water—all conditions that contribute to population decline of aquatic organisms. Frogs turns plague of frogs into plague on frogs, examining dangers that frogs face, from predators like waterbirds to genetic damage caused by pesticides. Pestilence mourns the loss of domestic farm animals–not just the ones that die from abuse and disease, but also the animals we kill to eat. Smiting of Firstborn addresses the devastating affect that colonialism has on native populations as ghosts of extinct animals mingle with those who are currently endangered or threatened.
As we race toward critical mass environmentally, it is imperative that we form a holistic view of the world and develop a compassion for all life on earth, whether for a pet or for a distant rainforest creature that most will never see. Biologist and whale expert Roger Payne presents a vision of a perfect world:
"…birds have rights, and so do amphibians, and so do lizards, and so do insects, and so do plants and plankton, and on all the way down, until finally we become at peace with the rest of life on earth and recognize that we are just one species among many. That's a wonderful thing to be…" (Ackerman, 145)